Leadership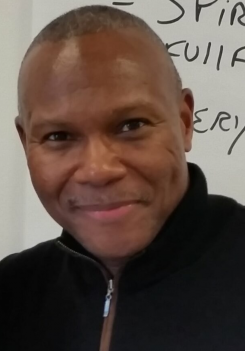 Elder Emory Brown
Emory is the pastor of Refreshing Springs Ministries in Buffalo, a multi-cultural church that the Lord used him and six others to plant in 1994.
Emory experienced the turmoil of the streets of Buffalo only to be thrust into the world of the occult while living in Toronto . While there he was introduced to an entire new way of seeing and experiencing people and ideologies. After five years of exploring the New Age Movement, Astrology, and the religions of Hinduism, Ancient Egypt, and Islam, the Lord Jesus Christ "invaded his space" in 1982, and Emory quickly came to love the Son of God whom he had mocked and resisted.

Although a high school drop out in his sophomore year, Emory went on to secure a GED from Medialle College and complete a B.S. in Ministry from Crown College in Minnesota, as well as enrolling and currently pursing a Masters of Arts/Doctorate of Ministry from Antioch School in Ames, Iowa. Emory also attended Master's College in California (Biblical Counseling).

Together with Refreshing Springs Ministries and BILD, Emory and his beautiful wife, Gwen Marie (who is now with the Lord), were graciously blessed by the Lord to open the first church-based, competency based, Bible School in New York State in August 2007 . The school offers Bachelors, Masters, and Doctorate Degrees in Ministry and Theology that are fully accredited through the Antioch School of Church Planting and Leadership Development. Antioch is a ministry of the internationally known Biblical Institute of Leadership Development. (BILD)